List of products by brand Miffy fra Mr. Maria
The cutest lamps for the baby- or children room. The Classic Miffy lamp comes i 3 sizes.
The Miffy character has been loved by children and parents since brought to live by Dutch illustrator Dick Bruna in 1955 in the colorful children books. Mr Maria's Miffy lamps has become a design classic and decorates homes and children rooms across the world.
Meet the Miffy family from Mr Maria. The classic Miffy lamp in 3 sizes. The new "First Light"- family includes Miffy, Snuffy (the dog) Boris (the bear) and Lion (the Lion). All Miffy lamps comes with dimmer. The First Light lamps are dimmable and made of BPA-free soft silicone with at rechargeable LED module.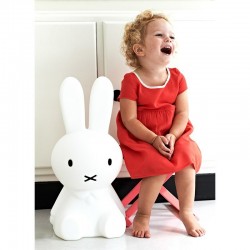 Online only
On sale!
-kr500.00